Skip Navigation
Website Accessibility
Riccar Standard Clean Air R25S
Conditional
Quantity:
Notes:
UPC:
098612056324
Manufacturer #:
R25S.2
Sku:
R25S

Add to Cart

or call: (603) 888-2757
R25 Standard Clean Air Upright Vacuum
Reliable cleaning performance on all types of floors plus maneuverability and reach at a great value.
In Store Service On Every Sewing Machine And Vacuum we Sell.
The R25 Standard is the entry model for the R25 Clean Air upright line. Engineered for Clean, the R25S is simple to use on ultra-plush carpet and transitions neatly to bare floors with the click of a switch. Designed to be simple to use, the R25 lays completely flat for cleaning under spaces like beds or dressers. The hose, telescoping wand, and 35-foot cord provide up to 46 feet of cleaning reach. The Standard model also features intelligent tool configuration that makes it easy to use tools and stretch the hose without tipping the vacuum.
Read more about the design of the R25 in our Engineered for Clean blog.
The R25 Standard has HEPA filtration, a molded handle, caster wheels, and a long 35-foot cord with quick-release clip.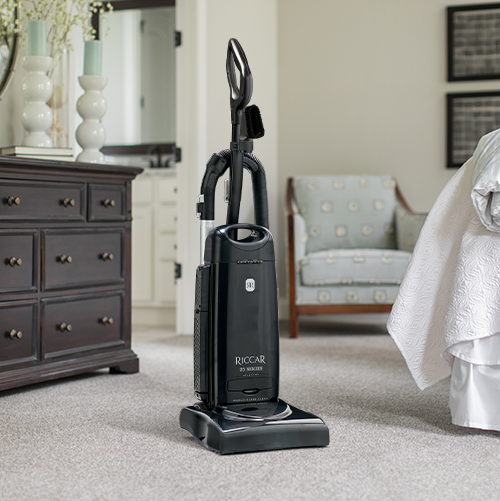 Top-Loaded and Contained.
The R25 has a bag that loads in the top of the machine, unlike most uprights where the bag loads in the front. Our design keeps dirt contained in the bag, which keeps your house cleaner.
Clean Carpet and Bare Floors.
A switch on the side enables you to go from cleaning carpets to bare floors. No nozzle adjustment required.