Skip Navigation
Website Accessibility
Riccar Premium Pet Vacuum R25P
Conditional
Quantity:
Notes:
Manufacturer #:
R25P.2
Sku:
R25P.2

Add to Cart

or call: (603) 888-2757
R25 Premium Pet Upright Vacuum
R25P.2
Outstanding maneuverability plus premium particle filtration and odor control dirt sensor and pet hair remover tool.
In Store Service On Every Sewing Machine And Vacuum we Sell.

VACUUM TECHNOLOGY
Riccar vacuums feature proven technology that improves indoor air quality and deep cleans your carpet in ways others can't. Riccar vacuums are designed and engineered for high performance and long wear. Most use HEPA media filtration and/or self-sealing HEPA media bags to capture and retain particles at 99.97% efficiency at 0.3 microns. That's how so many Riccar vacuums have earned the Seal of Approval from the Carpet and Rug Institute.
Tandem Air Technology
Most vacuums have either a clean air or a direct air motor. Clean air technology sucks the air through the filter, bringing dirt along with it. Direct air technology agitates carpet fibers, releasing dirt particles. Tandem Air vacuums have both types of technology that work together - in tandem - to pull up deep-down dirt and lift it up and into the bag.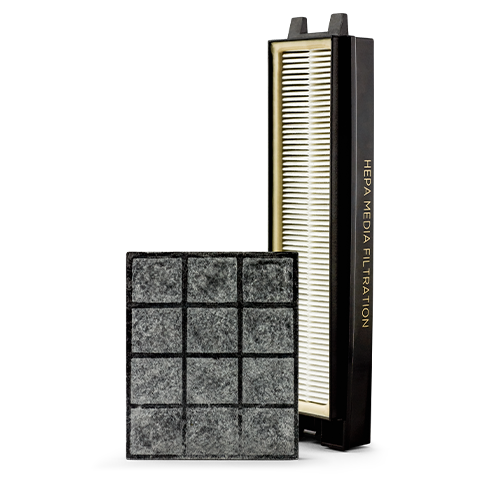 HEPA Filtration
High Efficiency Particulate Air… sounds important, right? Well it is. Commonly known as HEPA, this type of filtration system captures 99.97% of the particles in the air so you don't have to breathe them.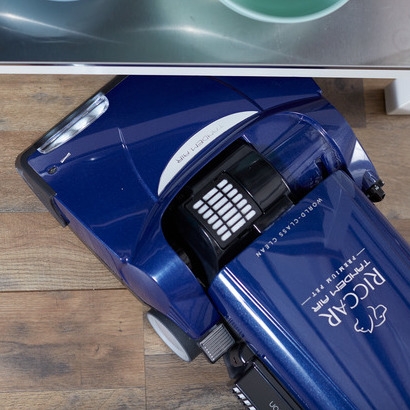 Versatility
Our vacuums are equipped with features and capabilities for cleaning anywhere and everywhere. We have canisters and uprights, vacuums with tools, multi-floor vacuums, long cords, and headlights. Whatever your need, we have a vacuum that can meet it.


Product Info
The R25 Pet vacuum provides a world-class cleaning experience on bare floors to plush carpets and everything in between. Using Clean Air technology it's also built to provide powerful suction using tools. The R25P features include: * Dirt sensor lights turn off when its okay to move on. * LIfetime belt protection stops the brushroll from turning until the jam is cleared saving you from unexpected belt changes. * Full bag sensor lights up to indicate that it's time to change the bag which eliminates guesswork. * 360 turning turns on a dime every time allowing ultimate maneuverability through your home. * HEPA media filtration and granulated charcoal filters for our highest level of particle and odor filtration. * Top-loading HEPA media bag captures more dust and locks in particles like dust dander and pet hair. * Self-cleaning Fur Get It pet tool cleans pet hair from upholstery and stairs. Easy to use? Most certainly. The R25 was designed to be a delight to use from handle to wheels. With switches at your fingertips caster wheels for ultimate pivoting and intelligent tool configuration Riccar covered it all. Plus it includes bright LED lights an ultra-low profile nozzle and lays flat for cleaning under beds and furniture. Durable? You got it. The R25 has a metal brushroll metal wand and rubber wheels plus [Red Carpet Service](https://riccar.com/clean-advice/rolling-out-the-red-carpet)) visit and a five-year warranty. Effective? Riccar didn't bother designing a vacuum that only cleans the surface. The R25 clean air machines aggressively pull dirt from deep down in the carpet to preserve the life of your carpet yet are gentle on wood floors. An array of tools clean upholstery stairs and crevices plus wherever pet hair lands. Read more about the design of the R25 clean air vacuums on our blog.
The R25 Premium Pet vacuum gives a world-class cleaning experience on bare floors to plush carpets and everything in between. Using Clean Air technology, it's built to provide powerful suction when using tools.
The R25P has a self-adjusting nozzle that transitions seamlessly from ultra-plush carpet to bare floors, without scratching wood or blowing dust. Large rubber wheels and a 360-degree turning caster, plus smaller rubber wheels, give this vacuum the amazing ability to turn on a dime.
Lower it to the floor for cleaning under furniture, or stretch the hose and wand to a full 11 feet to clean crevices you never thought you'd reach with an upright vacuum.
Another helpful feature is the sensor light that tells you when it's time to change the bag.
Top-Loaded and Contained.
The R25 has a bag that loads in the top of the machine, unlike most uprights where the bag loads in the front. Our unique design keeps more dirt contained in the bag, keeping your hosue cleaner.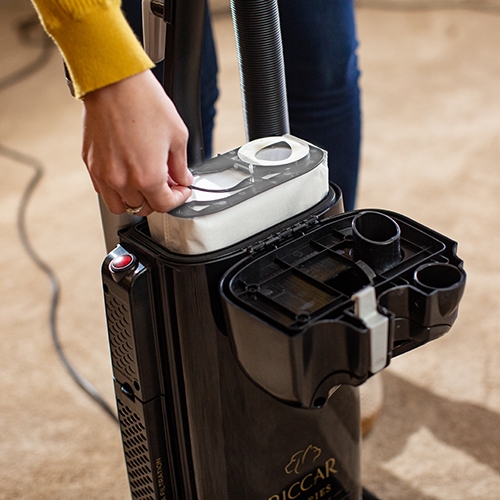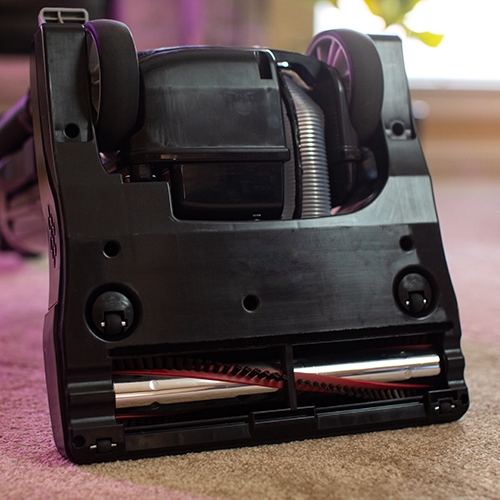 At Riccar, we make vacuums with high-quality materials. You can see that with our steel brushroll and replaceable strips. We also put caster wheels in front. These allow you to turn on a dime to get spots you missed.
A Premium Machine with Premium Features.
The R25 Premium has a headlight, full bag indicator, aluminum wand, granulated charcoal filter, 5-year warranty, and the Red Carpet Service Plan.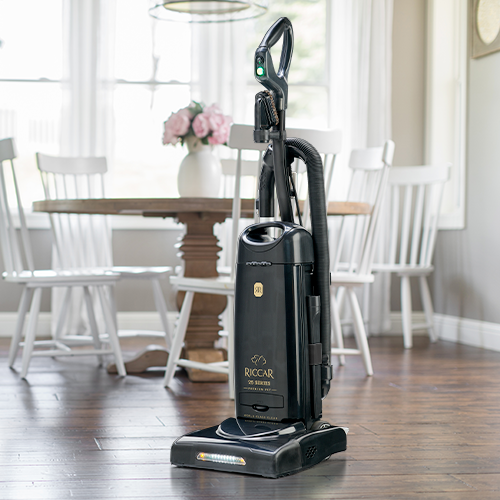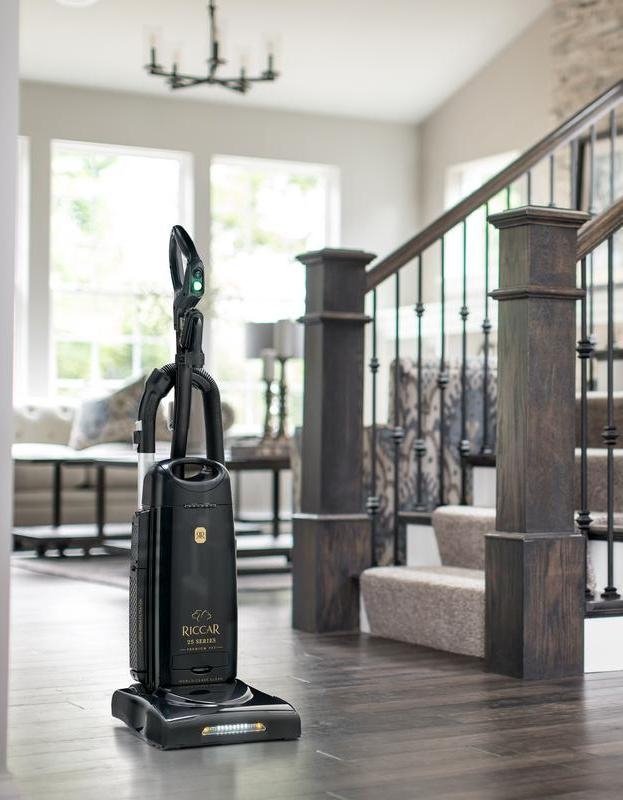 Product Features
Carrying handle balances weight perfectly for carrying up stairs or between rooms
Full Bag Indicator lights up to remind you when to replace the bag
360-Degree Turning
Self-Sealing HEPA Media Bag - Meets HEPA filtration standard of 99.97% efficiency at 0.3 microns
Equipped with squeegee that cleans bare floors beautifully
Metal Brushroll with replaceable brush strips - A strong metal roller is designed to perform well and to last for many years. As you'd expect, brush strips are repalceable and are customizable to your home's floors.
Dual Filtration - HEPA media and granulated charcoal