Raise the bar for what's possible with your embroidery projects with the Baby Lock Meridian embroidery machine. It makes embroidery easier than ever thanks to IQ Technology™ that allows you to wirelessly transfer images to your machine from your smart device using the IQ Intuition™ Positioning App for perfect design placement in the hoop or design creation in IQ™ Designer. Please read our privacy policy statement here.
The Baby Lock Meridian embroidery machine features include:
IQ Intuition Positioning
9-1/2" x 14" Embroidery Field
IQ Designer
494 Built-In Embroidery Designs
Large 11.25" Workspace
Needle Beam
Meridian (BLMA) Update Version 1.02
Zipped file includes:
BLMA_Ver1.02_Update_Info_Website (PLEASE READ THIS FIRST--general instructions and information)
BLMA Update Manual Instructions (update illustrated instructions from a page in your manual)
Update file W_V102_T_P.upf (the only file to be copied onto formatted USB drive of at least 4GB)
Added: 08/20/2019
Download
View Specifications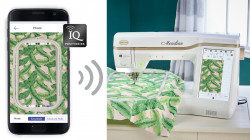 IQ INTUITION™ POSITIONING APP
Use the IQ Intuition Positioning App to take a photo of your fabric in a special hoop and transfer it wirelessly to the Meridian. The image will display onscreen in lifelike color and sharp resolution, allowing you to position your design exactly where you want it, how you want it –every time.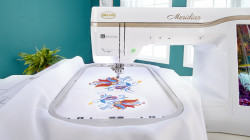 9-1/2" X 14" EMBROIDERY FIELD
Stitch bigger embroidery designs and enjoy less re-hooping with a large embroidery field.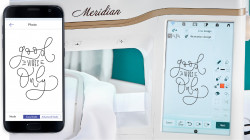 IQ DESIGNER
Create your own embroidery designs with ease. Take a photo with the IQ Intuition Positioning App and wirelessly transmit it to the Meridian! Draw directly on the screen, or if you're feeling inspired by an existing art file, simply upload it to the Meridian through the USB drive. Your art will be instantly digitized with the colors and fill stitches you choose.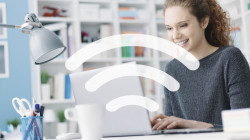 WIRELESS CAPABILITY
Use your favorite embroidery design software like Palette (version 11 or higher, sold separately) to wirelessly transmit your designs from your computer to Meridian.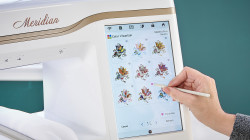 COLOR VISUALIZER
Choose from random, vivid, gradient and soft, and watch as your design is transformed in an array of color combinations. Tag your favorite color combinations, then select your favorite from the finalists.
NEEDLE BEAM
Know exactly where the needle will drop every time with a brilliant LED pointer on the included embroidery foot. There's no more guesswork.
494 EMBROIDERY DESIGNS
You'll always have something to embroider with Meridan's huge selection of built-in designs that includes 200 exclusive designs from Baby Lock. The design library features large thumbnails to make finding the right match even easier.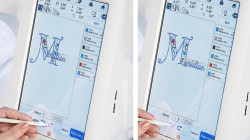 REDO/UNDO IN EMBROIDERY EDIT AND IQ DESIGNER
Want to go back to an earlier version of your creation? Made a mistake? Change your mind? Meridan has a redo/undo feature that takes care of it with just the push of a button.
VIEW SPECIFICATION SHEET


Project

The One That Got Away Fisherman's Vest

Skill Level: Beginner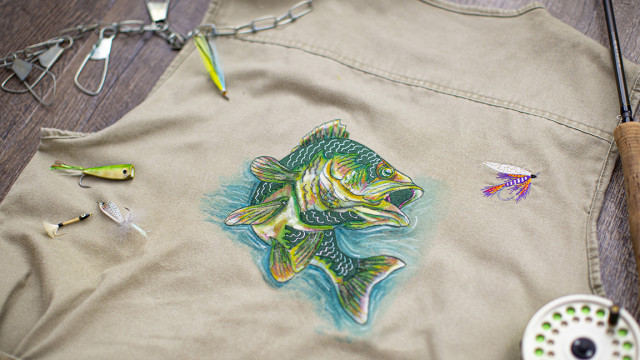 It is time to bait those hooks, cast those lines and catch a fish or two. This project will give the sportsman in your life a great-looking vest.
Materials:
Fisherman's Vest purchased from your favorite outdoor store
Bass embroidery design
Medium tear-away stabilizer
Black 40 weight polyester embroidery thread
Black bobbin thread
Fishing fly design sized to 1.5"
Polyester threads you've selected for the fly design.
Fabric Markers (I used DIME Fiber Markers. I looked up photos of a bass to help me decide on my colors)
Tsukineko All-Purpose Ink (champagne mist and white)
Print and stick target paper by DIME was used for creating templates (paper and tape work well too).
Tools:
Steps:
Resize the Bass fish 7.90" x 7" inch using the resizing tool that will change the stitch count and density.

Cut the sample out and use it as a template to help place it to preview where you might like to stitch the bass on the vest also create a template of the fishing fly to get your layout figured out.

Cut the sample out and use it as a template to help place it to preview where you might like to stitch the bass on the vest.

Once you are happy with placement, hoop the vest with a medium tear away stabilizer.

Float another piece underneath the hoop to keep your Bass and vest from puckering. Attach to the embroidery arm.

Use the move keys to move the needle to line up with the crosshairs on your template or the start point on the practice stitch out.

Rotate the needle through the crosshairs to ensure that you are in the center, rotate needle out of fabric and remove template. You are now ready stitch out your Bass and then stitch your fishing fly.

I used Clover Clips to help control the excess vest area.

Create a layout that is pleasing to you. This design was done in an 8" x 12" inch hoop.

Now let the creativity get started, it is time to bring your Bass to life however you like. This is where you will use your Fabric Fiber Markers there are many on the market.

I started with the lightest colors first and then layered it to intensify the color.

My last steps I added a little diluted Champagne Tsukineko All Purpose-Ink Champagne Mist brushed lightly on areas of the Bass to give the fish and the water areas to glistening sparkle. I came back with the White Tsukineko All Purpose Ink to add some highlights.

Create a patch of fabric in the shape of your Bass and fishing fly just a little larger using Wonder Under Lite and a cotton fabric of your choosing.

Iron this on to the wrong side of the jacket to cover the stitched area. This will give the interior of the vest a much more finished appearance.